Northern Lights present Bernie McGill in conversation with Jessica Bates with music by Hannah McPhillimy
Broadcast 19/11/20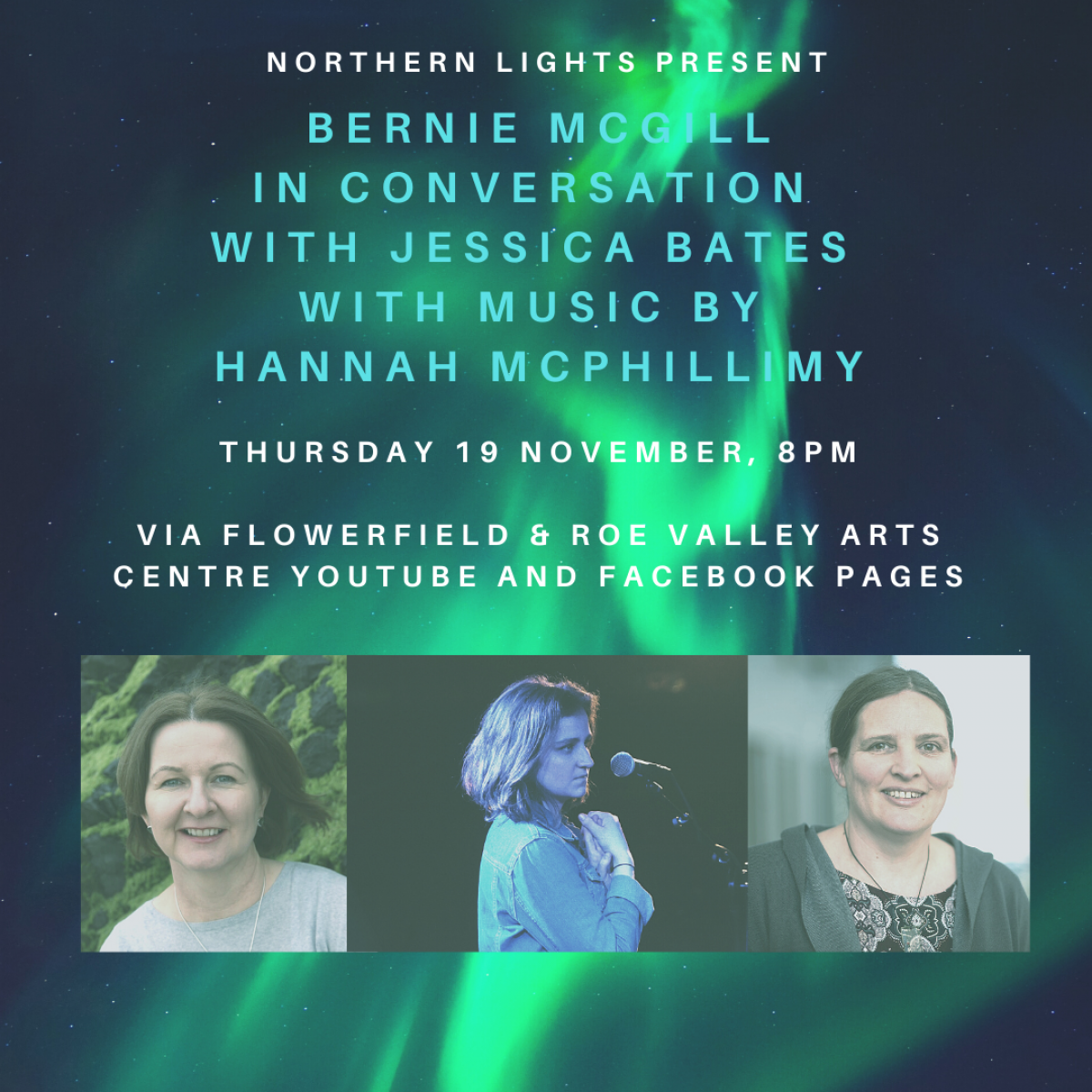 Listen to writer Bernie McGill in conversation with Dr Jessica Bates AND the stunning tunes of Hannah McPhillimy right here
Join us for an evening of music and words from two acclaimed artists whose work is inspired by the distinctive land and seascapes of the Causeway Coast and Glens.
Acclaimed writer Bernie McGill in conversation with Dr Jessica Bates, with music by the wonderful Hannah McPhillimy.
---
North Coast native Hannah McPhillimy's brand of thoughtful indie-pop takes its influences from artists across the Atlantic such as Regina Spektor and Feist, but retains an unpredictable beauty that is uniquely home-grown. Described by The Irish Times as 'a bit of a wonder', she has supported artists such as Foy Vance, SOAK and The Gloaming. Hannah recently returned from completing her masters in classical composition at the prestigious Michigan University and touring in the U.S.
'Quietly Captivating.' Culture NI
'Music both stunning and moving in equal measure.' Chordblossom
'McPhillimy's vocal talents hit home time and time again.' The Thin Air
---
The landscape and people of the North Coast are firmly rooted in the writing of Bernie McGill. Her first novel, The Butterfly Cabinet (named by Downton Abbey creator Julian Fellowes as his novel of the year in 2012), was set in Portstewart and inspired by the tragic events surrounding the Montague family in 1892. Her most recent novel, The Watch House (nominated for the Ireland European Union Prize for Literature in 2019), is set on Rathlin Island, at the time of the Marconi wireless experiments. Its themes of enforced isolation, of new technologies in communication, and of the ingenuity of people to overcome the restrictions of their environment, are distinctly appropriate for the times we find ourselves in.
Her collection of short stories, Sleepwalkers, was shortlisted for the Edge Hill Prize in 2014. Her work has been published in the UK, the US and in translation in Italy and the Netherlands. Her short fiction has appeared in anthologies Belfast Stories, The Long Gaze Back, The Glass Shore and Female Lines. She was Writing Fellow with the Royal Literary Fund at Queen's University, Belfast from 2018-2020.
'McGill writes about life, love and telegraphy with a poet's clarity' The Sunday Times
'McGill proves once again she is a masterful storyteller . . . historical fiction at its absolute best' The Lady
---
Hannah and Bernie will be joined by Ulster University Senior Lecturer and Rathlin resident Jessica Bates to talk about creativity in lockdown, the impact of location and of circumstances on creative work, and how creative responses can help us navigate troubled times.
Dr Jessica Bates is a Senior Lecturer in the School of Education, Ulster University where she is Course Director for the Postgraduate Diploma and MSc in Library and Information Management, both online courses. Jessica's research relates to information, education and social inclusion; critical information literacy; and improving library and information services. She recently led a series of Community Conversations with local communities across Northern Ireland about education provision in their area, and co-developed a Community Conversation Toolkit for use in this work. She supervises a number of PhD researchers and in addition to her own research also regularly co-authors with her PhD students and graduates and is a strong advocate of mentoring postgraduate students and new professionals. Dr Bates is also Chair of the Advisory Panel to The National Collection of Northern Ireland Publications (NIPR).
Northern Lights: Bernie McGill & Hannah McPhillimy
---
Share This Event