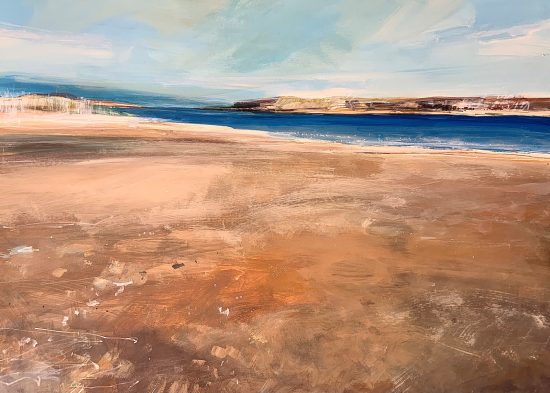 COASTLINE
SARAH CARRINGTON
15 July – 12 August
Exhibition launch: Saturday 15 July, 12noon – 1pm. Everyone welcome. Sarah will be doing a painting demonstration throughout the launch, to enable you to observe and engage with her art processes.
Sarah Carrington is a professional artist, based on the north coast of Ireland. Her work focuses on landscape and coastline, particularly that of her surrounding area and of her homeland, Scotland. She paints using emulsion, oil, ink, and a variety of mixed media, often incorporating gold leaf. She enjoys exploring and experiencing the dramatic coastline in all seasons and weathers, which she expresses through paint and mixed media techniques in her paintings. Significance of place plays an important part in people's lives, so portraying certain views and vistas of the beautiful scenery of this area can bring resonance to many.
An associated painting workshop led by Sarah Carrington will happen on 22nd July. Find out more information here.