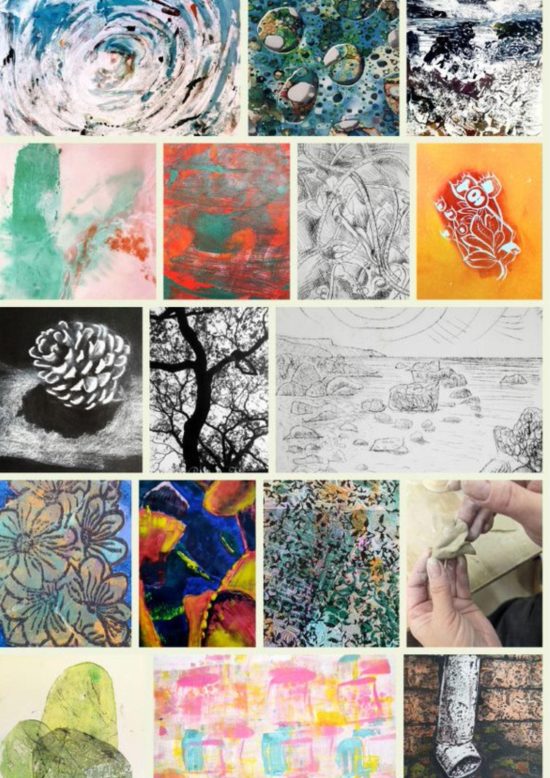 Northwest Regional College
Hidden Creativity
1 April – 22 April
Exhibition launch: Saturday 1 April, 12noon – 1pm, everyone welcome, free admission.
This exhibition titled 'Hidden Creativity' showcases the work of past and present students of the Higher National Certificate at NWRC, Limavady. A female led collective of women from the North West and Coast of Northern Ireland celebrates unique multi-disciplinary art work in a variety of art practices including painting, sculpture, printmaking, photography, illustration and mixed media. 'Hidden Creativity' focuses on a journey of discovery for these artists as they navigate and unleash a journey of creative and self-discovery of possibility and development of art practice. The exhibition also focuses on themes of nature, poetry, the natural world, music, province, locality, memory and experience.
Artists:
Bernie Kirrane
'Leathadh : Branching Out'
Fractal patterns in nature fascinate me as they reveal the structure of the universe - of life itself. The same branching patterns are found in river deltas, coastlines, the palms of our hands, in our lungs and veins- all connected, all one, all interdependent. I love the clarity in skeletal winter trees, stripped down to stark silhouettes, interlinking lines.
Trees are symbols of everlasting life in many cultures. The 'bile' ('sacred tree' in Irish) 'contained the essence of the local people and surrounding area.' (Magan, 2022). There were five sacred trees ( bilí) in ancient Ireland, representing 'transition points or axial lines between this land and realms beyond.' (Magan, 2022). The long median lines formed by these trees when felled ' formed part of an interlinking matrix across the island.' (Magan, 2022)
I live and work in Omagh, County Tyrone where I enjoy experimenting with analogue and alternative photography techniques such as cyanotypes, which turn blue when exposed to sunlight. Examples of cyanotype, monoprint, lino prints, image transfers, black and white film photographs are included here. I am currently exploring the possibilities of sumi-e ( Japanese ink painting), having achieved Distinctions in all subjects in the 2022 BTEC HNC Level 4 Art & Design (Art Practice) course, as well as the Wright Perpetual Award for Outstanding Achievement.
Reference
MAGAN, MANCHAN. Listen to the Land Speak. GILL, 6 Oct. 2022.
Carolyn Faith
My work is inspired by and embedded in the local landscape, flora and fauna to which I feel a profound connection. I feel we have lost our sense of being an intrinsic part of a greater system and many of our current troubles could be repaired by a return to this ancient knowledge.
I have used line and colour intuitively in my work, an emotional, personal response to the landscapes and plants as I experienced them in the environment. The work speaks not just of what I see but how the experience changes me.
In these works I have been drawn to the mythology and mysticism around water. I am intrigued by the commonality in many ancient stories, seeing water as divine, magical, life-giving source and my scientific mind sees the very obvious truth of this in terms of survival. Much of our need for empirical, scientific evidence and proof seems to only to lead us back to these ancient stories. I feel we discard the stories our ancestors held precious at our peril.
Debra Black
Debra lives locally in Limavady. I am a semi-retired nurse. local landscapes landmarks coastal views and Binevenagh often feature in her paintings. I love textures in nature the bark of a tree, a rusty padlock, barbwire, a derelict building, stone walls, ivy growing out of a stone wall, decaying wood. I love the way sunlight hits nature, adding shadow natural highlights. Until attending NWRC I usually painted mostly in watercolour, the course has allowed me to develop my skills and discover many different media's printing, sculpture, photography, collage. It has also given me great confidence. My most recent /current pieces differ greatly and are more abstract they differ in that I paint from emotions often have no plan no idea where I'm going with a painting ,I find this immensely therapeutic .During this course I worked in a and e throughout covid... in many ways this course gave me an outlet for pent up emotions such as sadness despair grief anger, throughout this challenging pandemic.
Grainne Dixon
I am a Northern Irish artist working in pencil, pastels, paint, printmaking and photography. I love the natural world around me and I am inspired by the local scenery and wildlife of the Northern Ireland. Coming from a rural background, I grew up around the green fields, colourful hedgerows and boglands around Dunloy.
I capture what I see so my work covers a wide range of subject matter. I have been drawing from a young age, inspired by children's illustrators like Mary Blair and local artists like Sam McLarnon and Charles McAuley. I am particularly interested in colour and texture. I love to layer colour to bring out its vibrancy and depth. Blue features heavily in my work, inspired by the rivers and sea around the North Coast and the beautiful spectrum of hues found in nature.
I am attracted to create contrast and vibrant colour so like to build up layers of mixed media to bring the subject to life. This is especially evident in my wildlife portraits of birds. I like to create texture in my work, rendering the texture of feathers juxtaposed by the use of blended colour.
Louise Mullan
My work explores the Sperrin landscape, the area where I grew up, and examines how it influences my work. I have investigated this natural environment, its flora, and my sense of connection to place, to create a series of prints that combine these reflections.
The poetry of Seamus Heaney has been used as a source of inspiration to fuel an imaginative response, as he has written extensively about this countryside. This is my homeplace too. I have used his words as a starting point to create a vision of this landscape through my work.
The pieces on display are of an abstract nature, in rich earthly colours, with a focus on the changing shapes, patterns and hues of the Sperrin Mountains. The open space, the unspoilt landscape, as well as the textures of the flora are alluded to within the artwork.
Currently in Year 2 of the HNC Art & Design Course at the NWRC, this is my first exhibition outside of the college.
Norah Heaney
I am a self-taught artist living and working in Derry. I am influenced by the North-West Donegal coast and wildlife, gathering inspiration by the vibrant colour palette of the ever-changing light throughout the day, capturing the nature of the sky, sea and wildness of the environment.
As an artist I stumbled across mixed media art when on a foundation art course, here I created a canvas wall hanging with printed images and embroidery. Today, I explore and experiment with material practices in painting, drawing and printmaking. My work is about my emotional connection to a place or thing within a landscape. My choice of colours are usually vibrant with a hint of muted tones. I use my own photographs to work from taking several images of each place of interest, this helps to create a sense of space and form.
I recently completed the BTEC HNC in Art and Design (Art Practice) Level 4. From this I continue to develop my skills set in lino printing and acrylics. Looking at texture, mark making and colour.
For this exhibition my work will be in acrylics, lino printing and chalk. These pieces relate to each other within the environment.
Ruth Arbuckle
I am intrigued by natural and artificial systems and the resulting liminal and transitional relationships, midway between reality and fantasy, between all things. I am drawn toward exploration of connections between our collective outer and inner worlds. Of how we as people, plants, creatures, and objects are often unaware of how we see, feel and understand something by virtue of its relationship to something else.
We all stand shoulder to shoulder, inhabiting the oft overlooked spaces of our outer world, becoming sculpted and coloured by wild and wonderful natural and man-made elements, but also by our hidden, internal worlds, pared by the storms and calm harbours of our hearts and dream spaces.
A weed filled ditch at a busy roadside can be a safe liminal space, a single dandelion in a manicured lawn can be a hopeful diaspora. A song can trigger a visual memory and a mood.
I present with a linear figurative form and then enjoy using my hands and brushes to push inks into the surrounding empty spaces and layers. The juxtaposition of the interaction between the lines and colours transforms the piece, resulting in an organic visual language of emotional expression, containing both humanistic and nature elements.
Through the medium of print and figurative art, I have tried to capture the exchange of these forces expressing mood, energy and movement using line and colour, reflecting my recent HNC Art and Design practise at NWRC.
Yolande Shannon
I am a mixed media, textile artist and love to experiment with any materials with bright colour and texture. I love creating monoprints using acrylic paint and stencils, ripping the paper to create torn edges, creating further layers and texture. Hand cutting images out of paper and layering them onto top of each other to create a 3D effect. Creating cloth from paper using the ancient Japanese technique of momigami. I create collage with my own printed paper and then tear the paper into strips stitching them into new designs and patterns.
Butterflies for me represent hope and new beginnings. They are considered beacons of growth and power of transformation and incredible feats we can all achieve when we trust ourselves. The metamorphosis from a common colourless caterpillar to the beautiful bright coloured winged butterfly, is truly a wonderful sight. The transformation that takes place before our eyes of the egg to the caterpillar, leaving the safety of the cocoon and emerging as a butterfly represents hope and new beginnings. This is a journey that I feel I am travelling in my newfound carer in art. I am constantly evolving and changing, leaving the safety of my cocoon to my new beginnings.