18th October 2021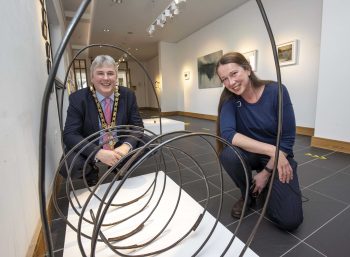 Roe Valley Arts and Cultural centre are thrilled to present a new joint exhibition, Beyond Edges which was opened on 15th October 2021 by Mayor Richard Holmes.
Beyond Edges presents the work of three women artists living and working in North Antrim, an area of open hills and dramatic coastlines perched at the northern edge of Ireland. Each of the three artists responds to the landscape through different materials – glass (Andrea Spencer); paint (Nicola Nemec); wood and metal (Sharon Adams).
This self-generated collaboration emerges from their common interest in lines and edges; seen and unseen; natural and manmade. Beyond Edges therefore explores where and how the edges of their practices meet and provides a space for their respective approaches to be explored together. The exhibition includes an accompanying text by Amanda Croft.
There will also be a meet and greet the artists day on Saturday 23rd October where the artists will do exhibition tours for the public and discuss their work. This is a free but ticketed event so booking is essential and spaces are limited. Time slots available to book via: https://www.eventbrite.co.uk/e/beyond-edges-meet-the-artists-tickets-186626112727 or by calling our box office at 0287760650.
The exhibition will continue until 20th November. Admission is free and gallery opening times are:
Monday: CLOSED
Tuesday : 10am – 4pm
Wednesday: 10am - 4pm and 7pm – 9pm
Thursday: 10am - 4pm and 7pm - 9pm
Friday: 10am - 3pm
Saturday: 10am - 1pm
---
Share This Story