2nd February 2021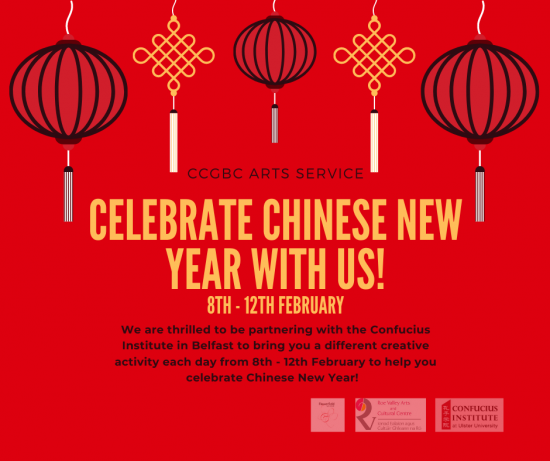 Chinese New Year Arts and Cultural Activities for Families
8th - 12th February
We are thrilled to be partnering with the Confucius Institute in Belfast to bring you a different creative activity each day from 8th - 12th February to help you celebrate Chinese New Year! You can learn all about Chinese New Year Culture and Chinese Arts and Cultural Traditions with the fun videos provided by the Confucius Institute, then join in with the arts and craft activity for that day too! We'll post all the activities on our social media each day for you to join in with.
Have a look at what we will have on offer each day:
Monday 8th - Learn about Chinese New Year and Create your own Year of the Ox Poster
Tuesday 9th - Learn about Chinese Opera and Create your own Chinese Opera Mask
Wednesday 10th - Colour in your own Chinese Dragon
Thursday 11th - Learn about Animal Kung Fu and Design your own Animal Kung Fu Cartoon Character
Friday 12th - Happy Chinese New Year! Join the Confucius Institute's Chinese New Year online Celebration.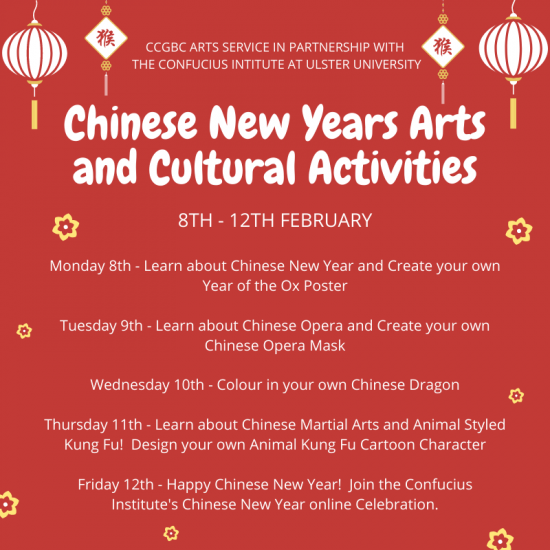 ---
Share This Story