30th May 2022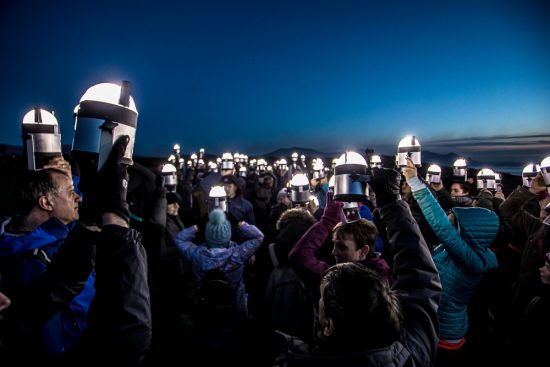 Green Space Dark Skies, developed by outdoor art experts Walk the Plank as part of UNBOXED: Creativity in the UK, is all about making memorable moments outdoors.
Each event celebrates nature, our responsibility to protect it and everyone's right to explore it. 20,000 participants, aka Lumenators, from Cairngorms to The Chilterns, Gower to North York Moors and Dartmoor to the Causeway Coast, are being recruited to create large-scale outdoor artworks in 20 of the UK's most outstanding landscapes. Events will take place across the UK from 23 April with the finale in September featuring events in all four nations of the UK.

We are inviting you to come register to take part in the Causeway Coast AONB event on Sat 2 July 2022, this will be a really special experience.
About Green Space Dark Skies
Green Space Dark Skies is one of 10 major creative projects commissioned by UNBOXED: Creativity in the UK, a celebration of creativity taking place across the UK in 2022, designed to reach millions and bring people together. UNBOXED features free large-scale events, installations, and globally accessible digital experiences in the UK's most ambitious showcase of creative collaboration.
What to Expect
Gathering at dusk on Sat 2 July, at a designated location in the Causeway Coast ANOB, Lumenators will be given smart lights to carry, that will enable digital choreography to be created and captured on film, while also being sensitive to the night-time environment in the area.
Developed by graduate engineers at Siemens, specifically for this project, the lighting technology uses existing wireless programmable lights but incorporates something that's never been done before: the ability for these lights to be animated through geo-positioning - the position of each light can be known in relation to the others around it - the result will be spectacular!
Gatherings have already taken place in Peak District National Park, Gower ANOB, Swansea, and in Lagan Valley ANOB, County Down and the exact location of the event will only be revealed to registered Lumenators closer to the event. There will be no spectators to help preserve the location, but everyone is welcome to sign-up in advance, and take part.
Short films created from the gatherings will incorporate the stories of the people and places featured and will be broadcast online after the event. Lumenators will also be encouraged to share their own connections to the landscape and the local areas as part of their involvement.

Green Space Dark Skies will enable people from all walks of life to forge new connections with the countryside by supporting those who experience cultural and physical barriers to access. The Green Space Dark Skies team is working with Dark Skies representatives in many locations to explore how the project might highlight the value of minimising light pollution in our towns, cities and rural landscapes to help wildlife to flourish.
Get involved and book your place as a Lumenator today. Register at https://greenspacedarkskies.uk/get-involved/
We hope to see you there!
---
Share This Story