31st August 2022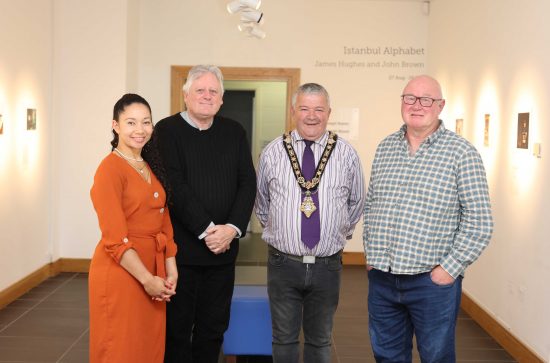 A beautiful new exhibition called Istanbul Alphabet by writer John Brown and photographer James Hughes is now open at Roe Valley Arts and Cultural Centre in Limavady.
The exhibition, which complements a book of the same name, is based on images taken by James over eight years in the Turkish city, covering its back streets, buildings, doorways, people, mosques, interiors, and street vendors. This photographic record became the basis for a collaboration with the poet John Brown which collectively explores the city, its people, history, and culture.
Together the pair selected 29 different photographs, one for each letter of the Turkish alphabet, with corresponding subject matters which represented different aspects of Istanbul. This provided a framework to explore the relations between people and city, word and image, photographer/writer and viewer/reader.
James comments: "What is special about Istanbul Alphabet and the A – Z of the 29 letters is the eclectic tone, the notes of longing, while the work also has aspects of history interwoven into the alphabet."
The Mayor of Causeway Coast and Glens Borough Council, Councillor Ivor Wallace, who attended the recent exhibition launch said: "This joint piece of work by John and James tells a very striking story about Istanbul, and it is a must-see for anyone with an interest in geography, travel, or the city itself. I was pleased to have the opportunity to meet with them both, and to find out more about how this exhibition came about."
John Brown began in-depth research over three years into Turkish literature, poetry, history and culture, and the ways the city had been represented previously, in order to write his informed new text on the city and James' photographs.
Avoiding stereotypical tourist images, and by refusing to recycle past cliches and postcards, the book and exhibition excavates the city from a contemporary perspective and asks if we can say what we see in a photograph or construct a narrative or idea of a place or people through images and texts.
John notes: "The exhibition asks us to consider our common humanity and encourages the audience to consider the similarities we share internationally."
For more information about the Istanbul Alphabet exhibition please click here.
---
Share This Story