15th November 2023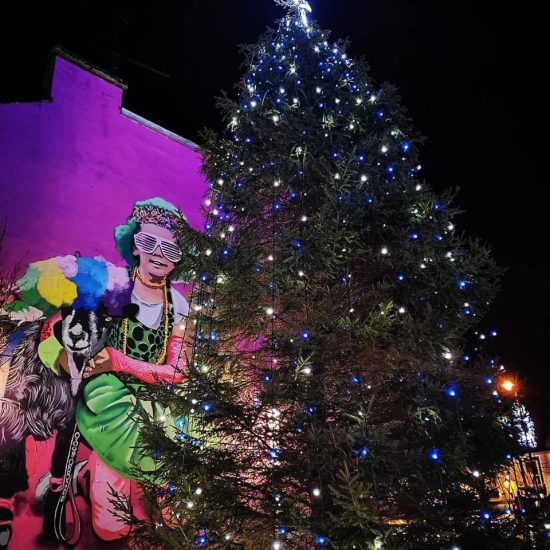 It's beginning to look a lot like Christmas....and boy, do we have some lovely creative treats lined up!
CHRISTMAS LIGHTS SWITCH ON
First of all, the big Limavady Christmas Lights Switch-On is on Saturday 18 November! Santa's Grotto is available from 2pm in our Drumceatt Square. Children with additional needs can also enjoy a pre-booked 'Quiet Time' from 10.30am-12.30pm (to book your quiet time, email: events@causewaycoastandglens.gov.uk).
The Christmas parade departs from Irish Green Street at 4.45pm before it makes its merry way through the town with the festive lights switch on between 5-6pm.
---
FESTIVE WORKSHOPS FOR LITTLE ONES
MINI CHRISTMAS TREES FOR 5-7 YEARS / Saturday 25 November, 12noon – 1pm / Cost: £10
It's time for some messy fun making tiny Christmas trees for the elves and fairies. Perhaps you'll leave a little gift under it for them on Christmas Eve? Using natural pinecones, paint, glue, pom-poms and sparkles we'll make the cutest little trees for the little people…or just for you! Wear something you don't mind getting glittery! CLICK HERE to book
AIR DRY CHRISTMAS DECORATION CHILDREN'S WORKSHOP FOR 8-12 YEARS / Saturday 9 December, 10.30am – 12noon / Cost: £14
A one-day workshop with Ceramic Artist Fiona Shannon who will guide you through designing and making festive decorations for your Christmas Tree. Designed for beginners and improvers this class will be a fun creative environment to get crafty using a range of clay techniques. Please bring a box with you as children will get to take their creations home with them at the end of the workshop to dry and paint at home. CLICK HERE to book
MAKE YOUR OWN CHRISTMAS ELF PUPPET FOR 6-10 YEARS / Saturday 9 December, 1.30-2.30pm / Cost: £10
A fun and creative festive workshop with tuition from professional puppeteer Karen from Banyan Theatre, make your very own Elf Rod puppet to take home. Will your Elf be naughty or nice? It's in your hands! CLICK HERE to book
---
MAGICAL TALES FOR LITTLE ONES
FESTIVE STORIES FOR AGES 1-4 YEARS / Saturday 2 December / Session 1: 11–11.30am CLICK HERE to book / Session 2: 11.30am-12noon CLICK HERE to book
Cost: £5 (ticket covers guardian and child)
Join us for some winter fables for little ones with storyteller Kelly Quigley. Kelly Quigley is a performer and storyteller that brings stories to life for kids through her magical ability to tell a story well (A parent or guardian is required to accompany their child for the duration of the storytelling).
---
MAGICAL THEATRE FOR FAMILIES
BANYAN THEATRE COMPANY PRESENT THE ELVES AND THE SHOEMAKER / Saturday 9 December, 12noon / Tickets £6 or family ticket of four £22
There was once a poor shoemaker, who worked very hard but still he could not earn enough to live upon. All he had in the world was gone, he only had just enough leather to make one last pair of shoes... Just when he thinks all is lost, help comes in a very unexpected way!
An adaptation of the much loved 'Brothers Grimm' classic fairy tale, using puppetry, object theatre and original music, the story is set in a shoemaker's shop and is told in a playful way with gentle audience participation.
Suitable for ages 3-11yrs, performance length 45mins. CLICK HERE to book
LIMAVADY DRAMA CLUB PRESENTS SLEEPING BEAUTY / Wednesday 29, Thursday 30 November & Friday 1 December, 7.30pm, Saturday 2 December 1.30pm and 7.30pm /
Tickets Wednesday and Thursday, £10 adult, £5 child, £25 family of 4* / Tickets Friday and Saturdays £12.50 adult, £7.50 child, £30 family of 4* (*Family tickets are for 2 adults and 2 children or 1 adult and 3 children)
Tickets available here
Join Limavady Drama Club with the children from Chloe Riley Drama on a magical journey to the enchanting world of "Sleeping Beauty".
In this timeless tale, Princess Beauty, the coolest kind of princess you've ever met, finds herself under the wicked spell of Poison Ivy, a villainess who knows no bounds. As the land of Limavegas trembles in fear, it's up to our brave heroes to restore harmony and save the day! Brace yourself for an extraordinary panto experience filled with laughter, love, and a pinch of Limavady charm!
---
ENCHANTING THEATRE FOR PRIMARY SCHOOLS
ECHO ECHO DANCE THEATRE COMPANY PRESENTS: WINTER'S DREAM / Friday 15 December, 11:30am and 1:30pm /Tickets: £5 per child OR £3 per child for group bookings of 10 or more. Teachers go FREE!
Available for schools bookings, please call us on 028 7776 0650 for further details and booking. Suitable for Primary School groups.
"Winter's Dream" is a new family show produced by Echo Echo Dance Theatre Company. In a cosy and intimate setting, the audience will be offered a magical escape where children can embrace the wonder of co-creation and experience a unique theatrical adventure. Through movement, captivating storytelling and immersive sensory experience, "Winter's Dream" will guide you into a fantastical realm, where dreams unfold and the spirit of winter gives way to the enchantment of the spring.
---

FESTIVE WORKSHOPS FOR ADULTS
FESTIVE FELTED TOMTES FOR 18+ OR 12+ IF ACCOMPANIED BY AN ADULT / Saturday 2 December, 10am – 1pm / Cost £20 full, £18 concession
Tomtes are little bearded men, just three feet high, with long beards and scruffy plain clothes. In Swedish myth they were known to be solitary and mischievous domestic spirits who protected farmsteads, their families, and animals. Join Carolyn from Woolly Wild Folk to create your own little house-elf in festive red and white or customise him as you choose. He can be free-standing or made into a delightful tree decoration. Suitable for all abilities and children 12+ with accompanying adult. CLICK HERE to book
CERAMIC CHRISTMAS TREE DECORATION FOR AGES 18+ / Saturday 9 December, 1 - 2.30pm / Cost £25 full, £22.50 concession
In this one-off workshop, professional ceramicist Fiona Shannon will guide you through designing and making festive Christmas decorations and tea lights perfect for your tree and table. Designed for beginners this class will be a fun creative environment to get crafty using a range of clay techniques. Fiona will fire and glaze your decorations to be collected at a later date. CLICK HERE to book
CREATE YOUR OWN CHRISTMAS WREATH FOR 18+ / Saturday 9 December, 11am – 1pm / Cost £55 full, £49.50 concession
Join award winning florist Elaine Taylor as she takes you step by step through the process of designing your very own bespoke festive wreath. Fresh aromatic traditional foliage is the perfect way to get creative whilst also getting in the festive spirit. Please bring your own scissors or secateurs, all other materials will be supplied. CLICK HERE to book
---
Share This Story