28th February 2022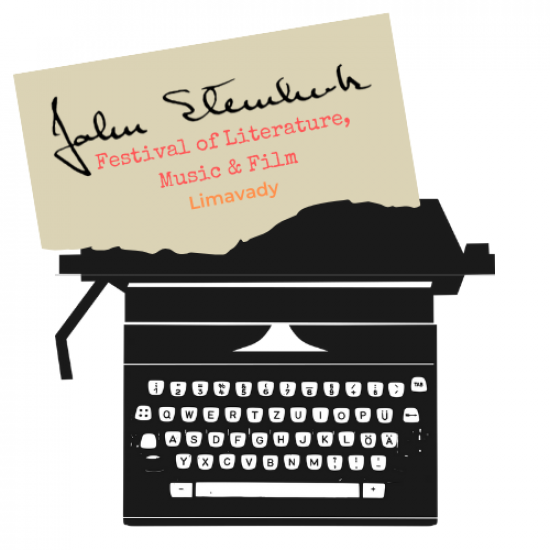 John Steinbeck Festival Limavady, Dust Bowl Photographic Competition 2022 launches!
Entries are invited for the second annual John Steinbeck 'Dust Bowl' Photography Competition, celebrating the American writer's important connection with the Roe Valley in Northern Ireland. Steinbeck's grandfather, Samuel Hamilton, was born there in Mulkeeragh near Ballykelly and this Ulster heritage deeply influenced Steinbeck's life and work.
This year the competition's theme is "The Journey". As you think of your submission, you might consider photographic interpretations in landscapes as well as portraiture. Your entry might be inspired by a journey you have taken, or it could refer to some aspect of the "journey through life". Our aim is to encourage the widest range of entries, no matter how tenuous you think the link might be.
Rules and Regulations
You are invited to enter a maximum of three original photographic images inspired by his life and work. The Competition opens at 9am on Friday 4th March and closes at 12 noon on Saturday 30th April 2022. Entry to the competition is free and there are no age limits on participant entry.
Original Single Digital Images may be entered that have not been used commercially or been entered in any other competition. These should be submitted along with full name, contact details and image title, to the following email address; www.steinbeckfestival@gmail.com
The sender must be the owner of the photograph(s) and if applicable, hold the portrait rights. Commendations and prizes will be awarded on the basis of general photographic and artistic merit as judged by the jury, as well as on their specific relevance to the literary legacy of John Steinbeck.
By participating in this event, the participant agrees to the rules and terms of this event. The Festival Committee reserves the right not to accept entries if it considers that they are not submitted in accordance with the award rules and regulations. By submitting, the sender provides the Committee permission for the photograph(s), with the photographer copyright credit, to be used for the implementation and promotion of the John Steinbeck Festival Limavady, without additional compensation. All photographers retain copyright on their submitted images. The winning photograph will be chosen by the jury from a shortlist of approximately twenty finalists' photographs. The photographs of those receiving commendations and the winning photograph, will be published on the Festival website www.steinbeckfestival.com with jury comments and an exhibition of the best 20 entries will be arranged in the Roe Valley Arts and Cultural Centre.Winning entries will be contacted by the Chair of the Photography Competition on Wednesday 11th May 2022.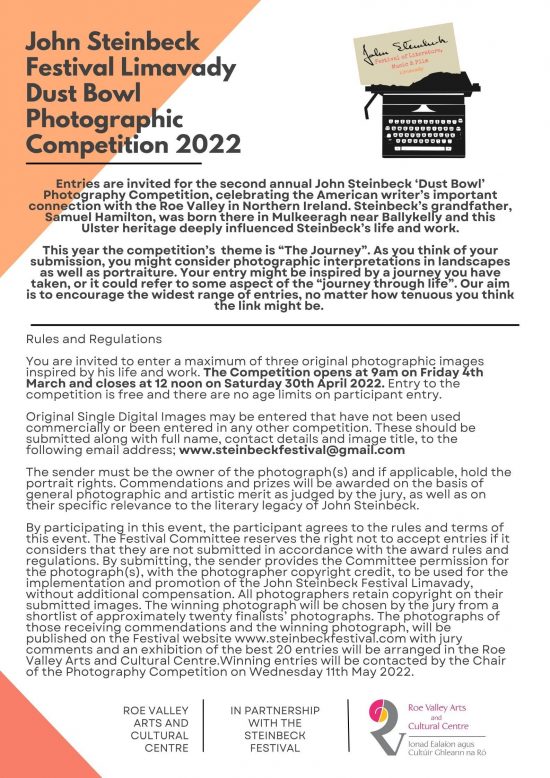 ---
Share This Story