4th May 2020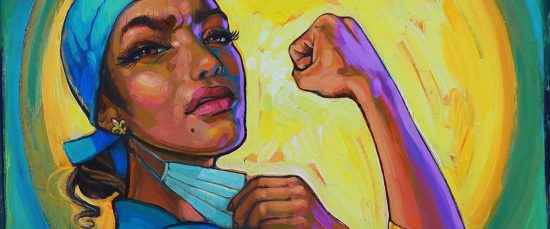 Coronavirus - Shared Global Experience!
Join in with Causeway Coast and Glens Coronavirus sees no race creative art competition!
One of the strengths in our society during this time has been the strong sense of social cohesion, supportive communities and being good neighbours, which is to be applauded and celebrated. This is also a time of recognising, that despite our differences we are connected in our interdependence locally and globally. During this unprecedented period, when we are isolated from many of our friends and families and unable to explore the rich diversity of society, Causeway Coast and Glens Borough Council's Good Relations team welcomes entrants for the "Coronavirus - a shared global experience " creative arts competition.
One thing that we know for sure about the Coronavirus pandemic is that it is impacting everyone around the world no matter what their race or nationality. No one is immune and anyone can get it. Coronavirus - a shared global experience!
In recognition and respect to the diverse communities throughout the world we want you to get creative. We welcome submissions from Casueway Coast and Glens residents, of your interpretation of how the Coronavirus is a shared global experience. Entrants can be from any age and in any format, including poetry, art, craft, music, song, short story or even send us a video to enter the competition. If you create a drawing, painting or other craft or art piece, you can take a photo of it and send the photo to us.
All submissions will be included in a booklet/video to be distributed at a later date as part of our exploring cultural diversity project.
This competition is open specifically to residents within the Causeway Coast and Glens Borough Council area only.
Deadline for submissions is 28th May 2020.
Please send your submission along with your name, address, including postcode and your date of birth to : Bebhinn.McKinley@causewaycoastandglens.gov.uk
Categories
The categories for awards will be:
Best Primary School age submission
Best Secondary School submission
Best Adult submission
Most creative
Most relevant to positive race relations
Prizes include:
Variety of board games for a family night Book vouchers Dinner delivered from a local takeaway Amazon Vouchers
Below are a few fantastic creations to get you all thinking. Good Luck and we look forward to seeing all the entries!
Artwork by Terrence Osborne
Terence spent the past several weeks creating paintings that honor the heroes of the medical and service industries. His "Front Line" piece, which depicts a courageous female doctor, is a nod to the iconic Rosie the Riveter poster from World War II. The subject wears fleur-de-lis earrings to symbolize her status as a New Orleanian, as well as a surgical mask, determined expression, and a Band-Aid to signify that she's equally susceptible to the virus as all of us.
Milburn Primary School
In February 2020, children from Coleraine's Millburn Primary School choir dedicated a Chinese song 'Let the World be Full of Love' to the people of China suffering from the Covid-19 outbreak. Recently, the Depu Foreign Language School in China has returned the favour by recording and sending a song back, along with their best wishes. This is an encouraging example of a cross-cultural exchange and Good Relations being practised between people of differing backgrounds. Millburn school also holds the Confucius Institute 'Global School of the Year Award' of which it is very proud.
https://www.facebook.com/millburnps/videos/910386572742093/
The Eden Project Communities
As part of the Big Lunch Northern Ireland, the video was created by I.assistni Thanking everyone stepping forward during this pandemic
https://www.facebook.com/TheBigLunchNorthernIreland/videos/2545392899110274/
If there is someone you'd like to thank go ahead nominate via #TheBigthanks https://www.edenprojectcommunities.com/the-big-thanks
---
Share This Story