20th December 2017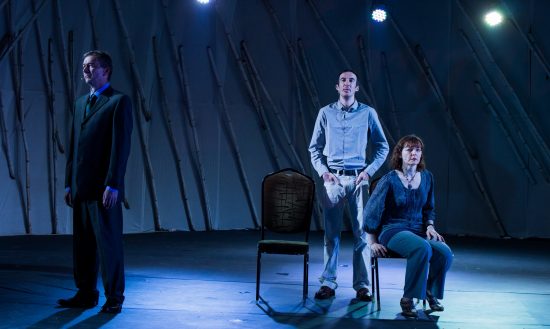 New Year means new events season at Roe Valley Arts!
You can download our brand NEW events guide straight to your smartphone, tablet or computer by clicking here.
Rvacc Jan March 18 Final Guide

Our events kick off with two award-winning films to mark Holocaust Memorial Day 2018. Destination Unknown is screened for schools on Friday 26 January and the superb Son of Saul is screened for general public viewing in the evening.
Kabosh Theatre present the FREE production Those You Pass On The Street on Tuesday 20 February, including a post-show talk for those interested. The award-winning Cahoots NI present their amazing new production Penguins on Thursday 15 and Friday 16 march - sure to enchant adults and children alike, as all cahoots productions do.
We welcome the return of The Fureys on Friday 23 February - with tickets already flying out the door, this is sure to be a sell-out, so get booking! The 4 of Us perform on Saturday 3 March, presenting songs from their new album as well as their catalogue of hits that made them one of the most successful Irish bands of all time.
With support from Into Film, we're delighted to present the charming animation Ethel and Ernest to mark International Women's day on Friday 9 March.
Our exhibitions include the return of the World Illustration Awards from 10 March to 7 April. We are delighted to be the only venue in Ireland/Northern Ireland yet again to host this stunning exhibition which showcases the best of illustration from international artists. Other exhibitions include: Roe Valley Memories, a selection of archive photographs of Limavady from the collection of Nelson McGonagle on display from 1-25 January; Off Her Head by emerging artist Amanda Walker from 11 January to 24 February; an exhibition of contemporary printmaking by artists from the Derry Print Workshop from 18 January to 24 February; and heritage exhibition Flints and Fishes from 1 February to 31 March.
All this, plus fantastic community arts programmes including our pilot Fab Families and New Perspectives plus engaging creative workshops for adults and kids.
---
Share This Story