28th April 2022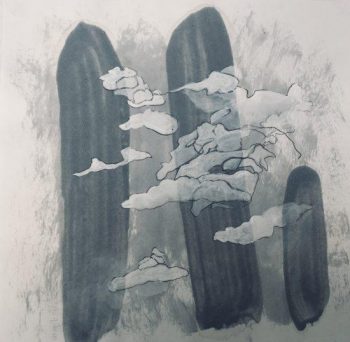 Roe Valley Arts and Cultural Centre are thrilled to host new exhibition, Overland and Borders by Diane Henshaw from 30th April - 28th May.
Originally from Islandmagee in Co. Antrim, Henshaw practised in Belfast at Queen Street Studios artists collective for just under a decade before moving to Tempo in Fermanagh where she has been based for 19 years. Over the past three decades, Henshaw has exhibited throughout the world in locations in Europe, North America, Asia and Indonesia. She has held numerous international artist residencies in Antwerp, New York, Kerala, New Dehli and Orissa, South India, and has been artist-in-residence in Ireland at the Tyrone Guthrie Centre at Annaghmakerrig, Monaghan, Ballinglen Arts Foundation, Mayo, and The Model in Sligo. Most recently, she has been curating online studio visits (65) and an 11 strand international touring expo for the Drawing Box during lockdown for whom she is the voluntary curator and a founding member. Diane also has recently exhibited virtually with the Sasse Museum in California in a group show curated by Maurice Quillinan entitled Irish Art. Other recent exhibitions include Boyle arts festival invited artist for King House 2021, 44 the quay Artforum Waterford invited artist for their annual exhibition in December 21 & the Fenderesky Gallery, Belfast Changing show. Diane is currently represented by Hambly & Hambly in Enniskillen & I am of Ireland in Cork.
Henshaw is also a founding member of Outland Arts and a member of Floating World Books. Her work is in many private collections both nationally and internationally. Diane also works as the Arts Officer for Fermanagh & Omagh District Council where she has worked since 2004 – she now works part time in administration and the other half of her time is spent making art, gardening and being a mother.
The exhibition is free to visit during our opening hours which are :
Monday : CLOSED
Tuesday: 10am - 4pm
Wednesday: 10am - 4pm and 7pm - 9pm
Thursday: 10am - 4pm and 7pm - 9pm
Friday: 10am - 3pm
Saturday: 10am - 1pm
Find out more about the exhibition here: https://roevalleyarts.com/exhi...
---
Share This Story