Roe Valley Arts and Cultural Centre launches new virtual arpillera exhibition on Children's Rights
25th March 2021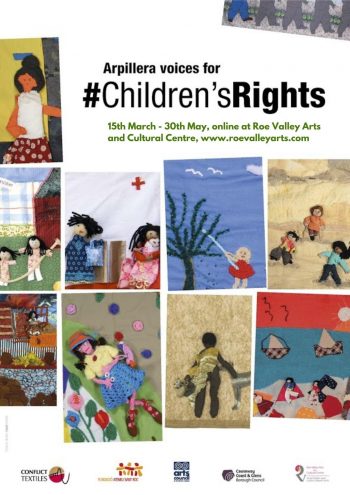 Roe Valley Arts and Cultural Centre launches new virtual arpillera exhibition on Children's Rights
Roe Valley Arts and Cultural Centre will host a powerful new virtual exhibition from today (March 15th) charting global progress on the journey to realising children's rights.
'Arpillera Voices for #ChildrensRights' is a collaboration between Conflict Textiles, Roe Valley Arts and Cultural Centre and Fundació Ateneu Sant Roc and builds on previous collaborations over the past 10 years.
Through the medium of brightly colored patchwork pictures known as arpilleras, the exhibition highlights the path to recognising children's rights, particularly relating to family life, play, education, health and protection from violence.
Asking the vital question, 'How can we embrace a culture of children's rights?', the two phase exhibition opened at Fundació Ateneu Sant Roc in Badalona, Spain on November 10th 2020, marking the 30th anniversary of the UN General Assembly adoption of both the Declaration of the Rights of the Child, and the Convention on the Rights of the child.
The second phase sees the exhibition moving to Roe Valley Arts and Cultural Centre to coincide with spring, which traditionally heralds the return of outdoor play for children.
The exhibition will also inspire the creativity of primary pupils thanks to a partnership with Balnamore Primary School and teacher Catherine Martin. This project focusing on the right of children to play will start on April 19th and will culminate in a virtual exhibition of the artwork created by the pupils.
The Arpillera Voices for #Childrens Rights exhibition will run from March 15th – May 30th online at www.roevalleyarts.com. It's also part of the live archive of Conflict Textiles where it will be available to view at https://cain.ulster.ac.uk/conflicttextiles/search-quilts2/fullevent1/?id=225
---
Share This Story