23rd November 2021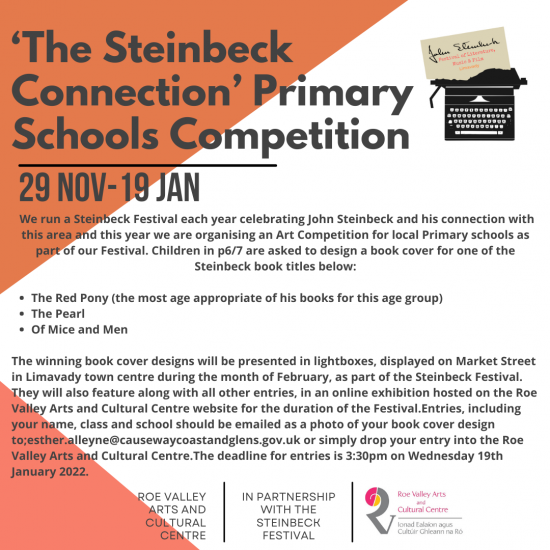 'The Steinbeck Connection' Primary Schools Competition.
29 November - 19 January
John Steinbeck and Ballykelly.
The Nobel Prize winning author, John Steinbeck visited Ballykelly village in August 1952. He came in search of the townland of Mulkeeragh where his Grandfather, Samuel Hamilton had lived and worked as a blacksmith, over a hundred years earlier. John Steinbeck admired his Grandfather a great deal and he would write a lot about him especially in the book East of Eden which came out in 1952.
As a young boy, Steinbeck had been told many wonderful stories and tales about Ireland by his mother. The connection with this part of the world, especially with Mulkeeragh, Ballykelly, Lough Foyle, and the Roe Valley, was very important to him as a writer.
We run a Steinbeck Festival each year celebrating John Steinbeck and his connection with this area and this year we are organising an Art Competition for local Primary schools as part of our Festival. Children in p6/7 are asked to design a book cover for one of the Steinbeck book titles below;
The Red Pony (the most age appropriate of his books for this age group)
The Pearl
Of Mice and Men
Entries, including your name, class and school should be emailed as a photo of your book cover design to; esther.alleyne@causewaycoastandglens.gov.uk or simply drop your entry into the Roe Valley Arts and Cultural Centre.
The deadline for entries is 12 noon on Friday 21st January 2022.
The winning book cover designs will be presented in lightboxes, displayed on Market Street in Limavady town centre during the month of February, as part of the Steinbeck Festival. They will also feature along with all other entries, in an online exhibition hosted on the Roe Valley Arts and Cultural Centre website for the duration of the Festival.
At a date in February, to be arranged, all participating pupils will be invited to the Roe Valley Arts Centre to learn a little more about Samuel Hamilton and John Steinbeck and see a live demonstration of blacksmithing.
If you require further information contact; Dougie Bartlett on 07840517178 or steinbeckfestival@gmail.com or
esther.alleyne@causewaycoastandglens.gov.uk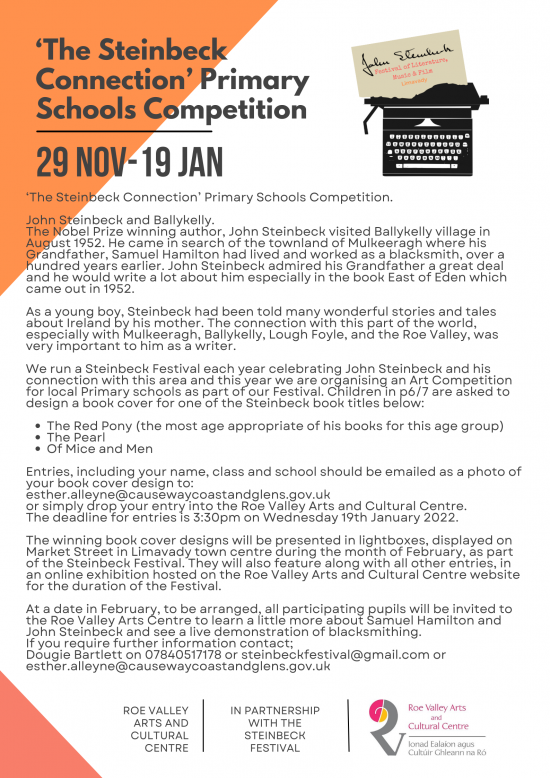 ---
Share This Story