4th July 2022
Join us for the Exhibition launches of two new exhibitions on Friday 15th July, 7pm.
Limavady Art Group will be opening their brilliant Summer 2022 exhibition, the group meet once a week, every Friday afternoon, in Roe Valley Arts and Cultural Centre to create artwork together and learn from one others skills over a cup of tea.
Limavady Art group have gone from strength to strength in their on going pursuit of painting good pictures, in all mediums, differing scales and varied themes. The group have continued working through COVID and this exhibition is proof of the groups stoicism, dedication to creating great art and a reflection of the community that the Limavady Art Group have created with one another.
Jim Holmes will also be launching his beautiful exhibition, As I see it, inspired by a group of Australian impressionist artists.
On 17th August 1889 a group of Australian artists, Roberts, Conder, Streeton, McCubbin, and others, held the 9" x 5" impressionism exhibition in Melbourne.
At the time it was difficult to get the canvas to paint on, but the one thing they had was cigar box lids, made of cedar wood which measured approximately 9"x 5". This exhibition is now considered one of the most famous in Australian art history and the paintings are regarded as national treasures.
During lockdown and with the combination of Brexit, art materials were difficult to get hold of in Northern Ireland for a while. At the time I had two canvas boards each of 18" x 24" which would give me 6 - 6" x 12" boards to paint on. So I started painting/sketching. I now find this size ideal for painting outside and when framed make a nice sized painting.
Whilst the majority of the painting in this exhibition have been painted on canvas covered boards cut to size, some have been painted on various pieces of wood or card of varying sizes.
Both exhibieions will run until 20th August and everyone is welcome at the launch.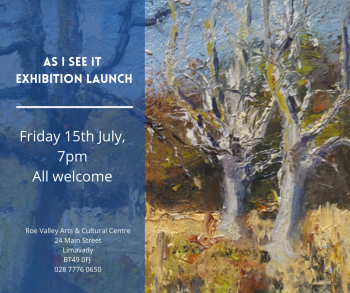 ---
Share This Story