Discover a World of Arts and Culture: Roe Valley Arts Centre Summer Arts Guide is Here! DOWNLOAD NOW
8th June 2023
Get ready to immerse yourself in a vibrant world of creativity, inspiration, and cultural experiences as we launch our Summer Arts Guide!
This guide is your key to unlocking a summer filled with captivating exhibitions, engaging workshops, and exciting events for people of all ages. Whether you're an art enthusiast, a parent looking for family-friendly activities, or someone seeking personal growth through creative expression, there's something for everyone to enjoy.
DOWNLOAD THE DIGITAL COPY
To ensure easy access for all, the Roe Valley Arts & Cultural Centre is thrilled to offer a digital copy of the Summer Arts Guide. You can now download it directly to your smartphones, tablets, and computers, allowing you to plan your summer adventures on the go. Printed copies will be available from reception very soon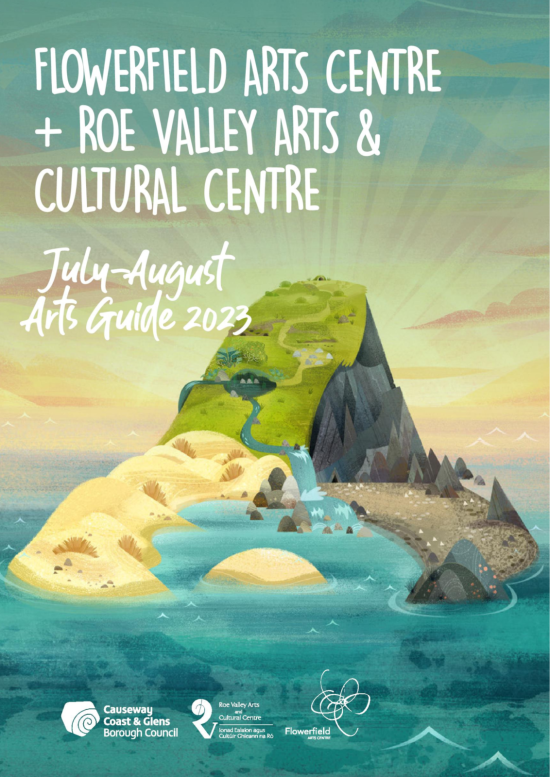 EXHIBITIONS THAT INSPIRE
Prepare to be amazed by the exceptional talent on display at the Roe Valley Arts & Cultural Centre this summer.
Coastline by Sarah Carrington: Experience the breathtaking beauty of our weather-beaten landscapes and coastal wonders through the eyes of painter Sarah Carrington. Based on the stunning north coast, Sarah skilfully captures the essence of our ever-shifting environments. Let her art transport you to the serene and awe-inspiring world of the North coast.
The World Illustration Awards exhibition takes centre stage in August, showcasing the very best work by emerging talents and professional illustrators from around the globe. Immerse yourself in a world of visual storytelling and witness the power of art to captivate and inspire.
CREATIVE WORKSHOPS FOR ADULTS
Unleash your inner artist, explore your creativity, and nurture your well-being through a range of engaging workshops. Join a paintingclass, embark on a well-being walk and sketchin the enchanting Downhill Forest, or discover the art of creative writing with poet Anne McMaster. For those with a passion for textile arts, delve into the world of needle felting with the talented Carolyn Faith.
A SUMMER PACKED WITH DELIGHTS FOR YOUNG PEOPLE
We are excited offer an incredible program of events tailored specifically for young people. Kickstart the summer fun at Stendhal festival, where our Arts Tent will host a day filled with free family activities on Friday 7th July. Create beautiful flower crowns, festival bracelets, and banners in our workshops, and dance to the rhythm of pure joy in our dance workshop with Echo Echo Dance Company. It's an open invitation for everyone at Stendhal to join the celebration!
August is a time for families to come together and make lasting memories, and we have something special in store. Enjoy family film Friday, free doodle draw sessions, and outdoor family fun in the lively Drumceatt Square. Prepare to be enchanted by the puppet theatre as the Banyan Theatre company retells the classic tale of Little Red Riding Hood and catch a captivating performance of "A Box" by Echo Echo Dance Theatre Company.
The fun continues with storytelling sessions, music-making activities for children, dance and a heart-warming workshop for both adults and children called "Songs for the Heart and Soul." Additionally, there will be exciting workshops for young people aged 7+ years, including as Lego animation, cartoon character development, and a comic book masterclass with the talented Kev F Sutherland, who has contributed to renowned publications like Beano, Dr. Who, and Marvel Comics.
SOMETHING SPECIAL FOR THE LITTLE ONES
We haven't forgotten our youngest arts enthusiasts! Join us for special toddler-friendly film screenings and an interactive drum and sing-along session designed specifically for children under three years old. It's a perfect opportunity to introduce them to the joy of creativity in a playful and engaging environment.
SUPPORTING THE COMMUNITY: CINEMAGIC YOUNG AUDIENCES:
The Roe Valley Arts & Cultural Centre is proud to collaborate with Cinemagic Young Audiences to support food banks. Don't miss the special screening of "Puss in Boots" on Saturday 12th August 12th. Admission is free with a donation of a food bank item.
Come together with your community to enjoy a wonderful performance while making a positive impact on the lives of others.
Download the Summer Arts Guide nowand start planning your unforgettable summer of fun and creativity.
---
Share This Story