Causeway Coast by SARAH CARRINGTON | 5 February to 26 March 2022
SARAH CARRINGTON: CAUSEWAY COAST
5 February - 26 March 2022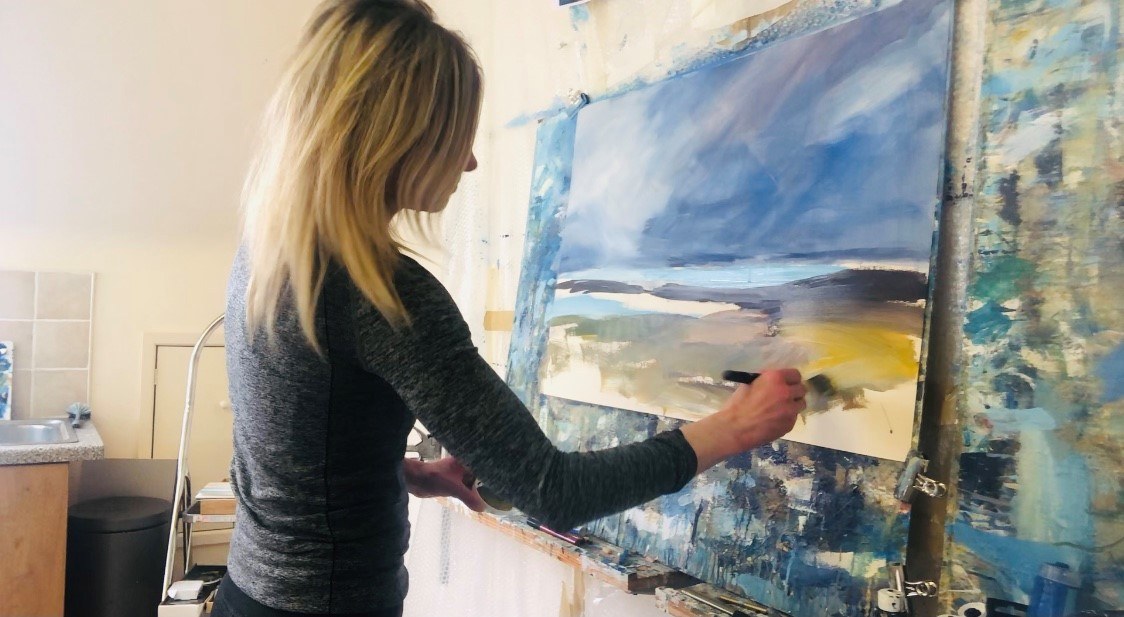 About the Artist

Sarah Carrington is a professional artist, based on the coast of Northern Ireland. Sarah studied at the University of Edinburgh and Edinburgh College of Art graduating in 1999 with an MA in Fine Art. Her work focuses on landscape, coastline and weather, particularly of her surrounding area and of her homeland, Scotland.
Land, sea and sky are continually changing: they always appear different, never the same. The light and weather evolve constantly, describing and shaping the landscape and its appearance. Sarah paints and describes these landscapes using emulsion, oil, ink and a variety of mixed media, often incorporating gold leaf.
Sarah regularly visit local beaches, as well as further afield, where she takes photographs, sketches and written notes, to record the experience. She gathers this research and returns to the studio to paint. Using household emulsion, inks and acrylics, she starts to describe the drama of the view, and the shape of the clouds and the land. She initially applies the paint in layers using various brushes both wet and dry, forming the land in more detail, and by using chalks, pen and pencil over and within the wet paint. With paint markers and thick paint, she highlights waves and sea foam.
After some time, Sarah then applies oil-based layers, using thinned oil paint and painting resin. She continues with mark-making, using pen, pencil and chalk, describing areas of the land, sea, spume and the direction of the rain falling in the sky. Finally, she applies some real gold leaf to the areas she wants to highlight, to describe where the sunlight touches the land and sea.

---
Causeway Coast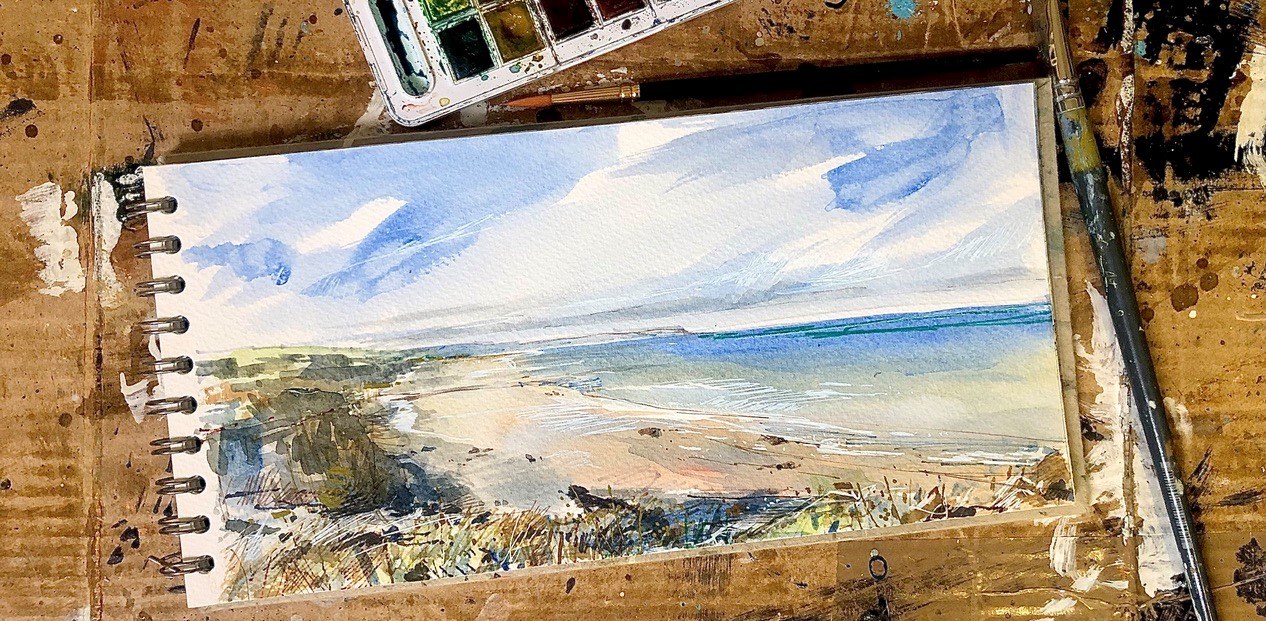 In this exhibition at Flowerfield, Sarah explores the beautiful and often dramatic coastline of the local area, the Causeway Coast. Through a series of miniature paintings, she paints vast views on a very tiny scale, created in a series of very small watercolour sketchbooks. These can be seen mounted in the first gallery, where they portray the variety of views at different times of day and through all the seasons.
In the second gallery, larger paintings bring some of these miniature paintings to a bigger and more dramatic scale. Some are painted on board while others are executed on canvas.
"Carrington's work draws the viewer into the landscape through an expansive range of marks, from exquisite foreground delicacy to bold movements in the distant sky. Layers of acrylics, emulsions and oils work alongside inks and chalk to create rich fields of weathered texture and translucent light that capture the shifting moods and spirit of the northern coastline."
- Tony Davidson, Director of The Kilmorack Gallery, Beauly, 2018
To see more of Sarah's work or to discuss commissioning a painting, please visit her website www.sarahcarringtonart.co.uk or Instagram @sarahcarringtonart
All artworks are for sale – please speak to our reception team for further details.
Admission is free.
Painting Demonstrations
Saturday 26 February & Saturday 19 March
11:00 – 12:00
Please note there will be a maximum capacity of 10 people for each demonstration, so please arrive early.
As well as spending time doing her own artwork, Sarah regularly visits local schools and communities to facilitate art workshops and perform painting demonstrations. Join and engage with Sarah while she does a landscape painting demonstration in the foyer of Flowerfield, using mixed media. See how she interprets a local coastal view and translates it into paint, using the process of painting with emulsion and ink, and mark-making with chalk and pen.