Uncertain Landscapes by ALEX DEWART & HEATHER MCATEER | 18 February to 25 March 2023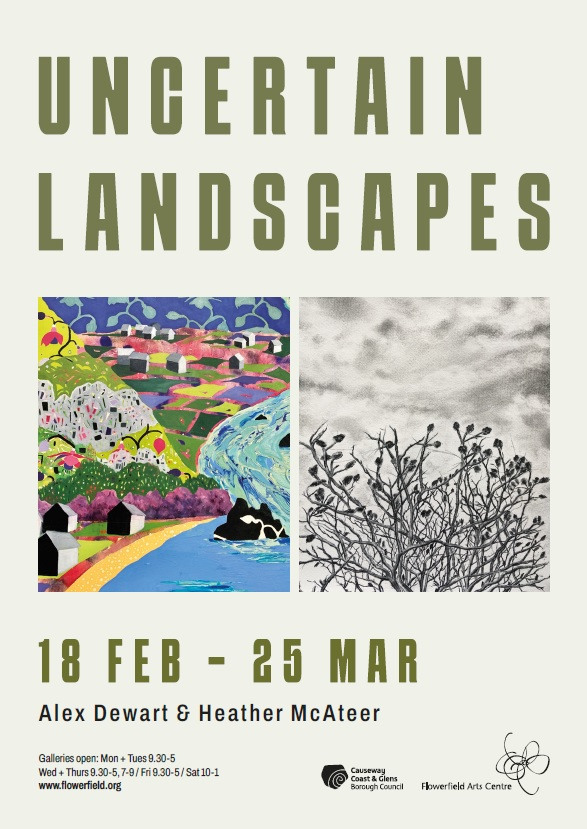 ALEX DEWART & HEATHER MCATEER: Uncertain Landscapes
18 February - 25 March 2023
Heather McAteer and Alex Dewart are two contemporary artists who, although born and brought up in Northern Ireland, have both lived in the south of England for several decades. The land of their birth has continued to inform the work they produce.
As a teenager during the 1970s in County Antrim Dewart's experience of growing up was on the one hand of the dramatic beauty of the landscape, and on the other hand, the fear and violence of the Troubles. Her artworks reflect that dichotomy; they explore landscapes - physical and metaphorical - that both entice and trouble the viewer. Dewart works with vivid colour, gesture and pattern, often repeating images and ideas until every possible meaning and angle has been reviewed. Taking cues from other art forms such as Japanese print and animation, textile and wallpaper design, her landscapes describe beautiful but surreal places.
Similarly, McAteer spent her formative teenage years growing up in 1980s Belfast. Her work draws on her childhood experience of living on a housing estate which was formerly a large area of parkland. Her bedroom window overlooked a wooded area which had been untouched by the development and is presented in the form of reoccurring motifs of vegetation, fences and trees. The artist's feelings of allure and fear evoked by this mysterious territory are tied to her desire for freedom and autonomy during her teenage years which were surrounded by the turbulence of the Northern Ireland conflict. Using the tonal possibilities of graphite to create a psychological darkness, the works depict unpopulated spaces which are infused with a melancholic sense of loss and absence.
At first glance it would seem that the two artists' work share little – but there are important similarities. No people appear in their lonely landscapes. Houses are usually windowless and unwelcoming. In McAteer's work a line of trees or vegetation creates a foreground barrier between the viewer and the rest of the landscape. The composition is always confrontational, locating the viewer squarely at the intense heart of the matter. In Dewart's work a sea or river is used similarly as an obstacle with a viewpoint often from high above - at a distance. In their different ways the two artists use composition to give ideas of distance and alienation. Landscape and beauty are entwined in our minds. How can something be beautiful, but also strange and unsettling?
Landscapes are never benign places - holders of difficult histories and the site of the ongoing precarious balance between the needs of humans and nature. The works inhabit a space between natural and manmade, imaginary and real and are an exploration of this uneasy position.
---