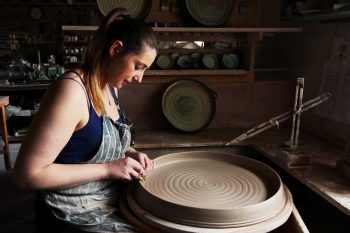 Fiona Shannon Ceramics
Currently renting our Ceramics Studio alongside Jack McGonigle, Fiona is a highly skilled designer and potter. She successfully studied for a Bachelor of Arts Hons degree in Contemporary Applied Arts at the Ulster University Belfast specialising in Ceramics and further developed her knowledge and expertise by completing a Diploma in Ceramics Skills and Design at the prestigious Design and Crafts Council of Ireland Pottery Skills Course, Kilkenny.
Fiona has exhibited in a number of galleries throughout Ireland including the National Craft Gallery Kilkenny, The Cowshed Gallery Phoenix Park Dublin, The Blue Egg Gallery Wexford and Stormont Assembly Gift Shop.
Fiona works primarily on the Potter's wheel using a stoneware clay. She makes a range of functional pieces including mugs, jugs, jam pots, bowls and platters. Her current pottery range, The Atlantic Collection is greatly influenced by her beautiful local Coastline.
A small selection of Fiona's beautiful work is available in our gift shop. Feel free to get in touch with Fiona via social media, her email: sales@fionashannonceramics.com or visit her website