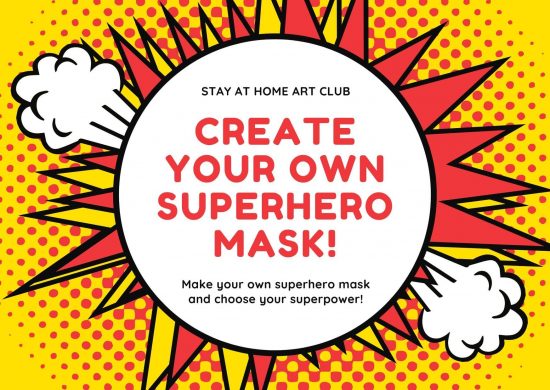 Day 13 - Create your own Superhero Mask!
Welcome back to the Stay at Home Art Club! We hope you had a lovely Easter with lots of nice treats and fun with your family. Todays Stay at Home Art Club Kids Challenge is to create your own Superhero Mask. Decide what type of Superhero you'd like to be, what will your superpower be and what would your mask look like?
To make your Superhero Mask you will need:
Mask Template (link below)
Scissors
String or elastic
Pencils, pens, glitter or anything else you'd like to put on your mask
Step 1: Click on the mask template link below and choose the mask that you like best.
Step 2: Ask an adult to cut it out for you.
Step 3: Design and colour in your mask, you can add glitter. your own designs or anything else you think your mask should have.
Step 4: Ask an adult to punch a small hole at either side of the and tie the elastic or string so you can wear your mask and play your superhero!
Our mask templates come from Itsybitsyfun.com.
Happy making from all of us at Roe Valley Arts and Cultural Centre!